5 Pale Gold Superduo Bead Ideas & Inspiration Photos
Superduo beads are one of the most versatile and popular glass seed beads right now. What is this two hole bead? The difference between a Superduo bead and a twin hole bead is the shape of the body of the bead and the staying power of the Superduo bead's color. Superduo beads are actually slightly smaller than a twin bead and are a pressed glass bead made from colored glass. Other two hole beads are color coated and the coating can wear off after use.
These Crystal Bronze Pale Gold glass beads are one of the most popular Superduo colors. Artists can use these pale gold beads in bead weaving, bead looming and other jewelry making applications.  Where to buy Superduo beads? You can get these 2.5 x 5.5mm beads in just about any quantity online. Craft Making Shop sells these Superduo Pale Gold beads in 22 gram wholesale tubes. 
Take a look at these inspiring Superduo bracelets, necklaces and other jewelry pieces.
1.) Simple beauty!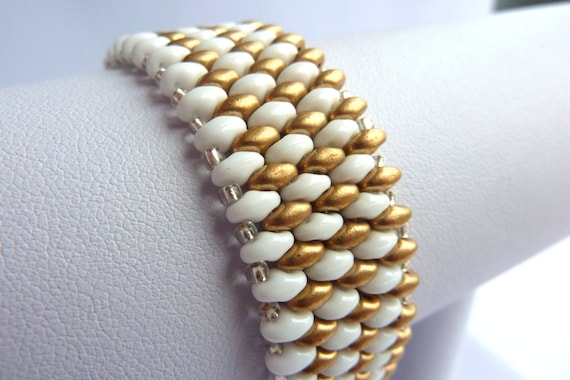 Gold and White Superduo Beaded Bracelet by FunkyBells on Etsy.
2.) Gold and Turquoise are a classic, gorgeous combination!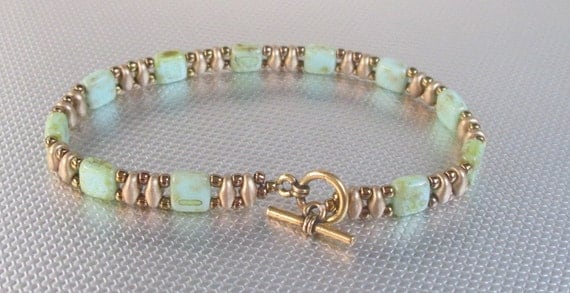 Pale Gold Superduo and Turquoise Bracelet by BeadNurse on Etsy.
3.) An absolutely stunning work of art!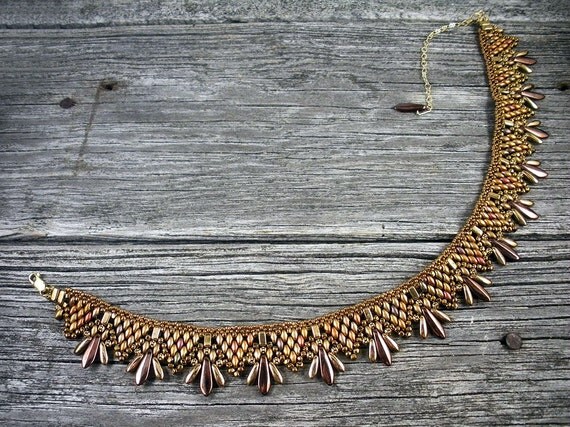 Pale Gold Superduo Beaded Collar Necklace by TheHighBead on Etsy.
4.) Herringbone has never looked so good!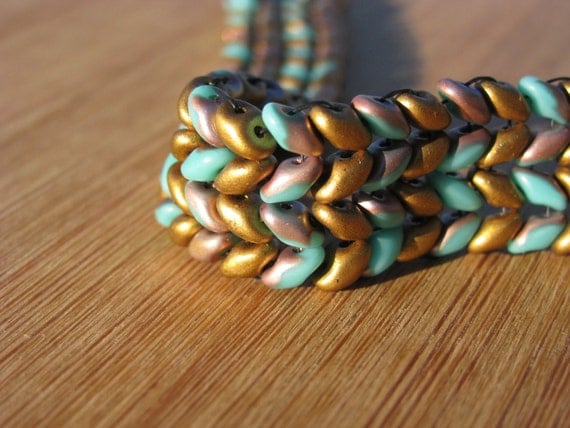 Turquoise and Pale Gold Superduo Beaded Herringbone Bracelet by TotallyTish by Etsy.
5.) Incredible beading pattern!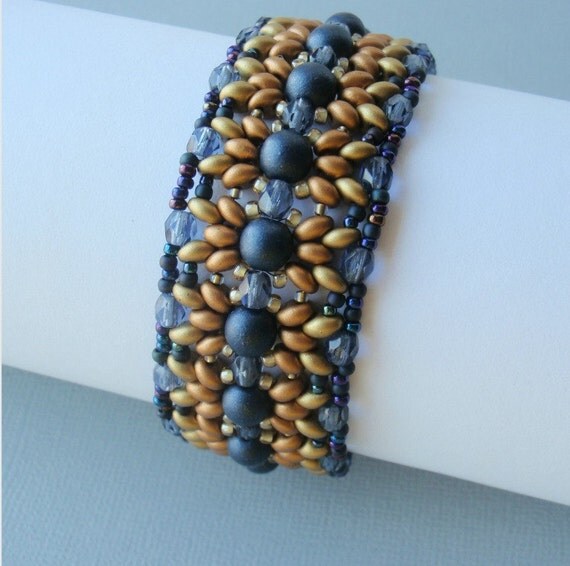 Gold and Petrol Superduo Bracelet by acbeadsjewellery on Etsy.