5 Bordeaux Purple Superduo Bead Ideas & Inspiration Pieces
Superduo beads have skyrocketed in popularity in the last few months and we have to give them their due. They really are a multi-faceted, industrial and all-purpose glass bead. Superduo beads are a two hole, czech glass seed bead that simply inspire creativity! Manufactured by Matubo, you can find Superduo beads in all quantities. Craft Making Shop sells 2.5 x 5.5mm size Superduos in 22 and 24 gram wholesale tubes and pre selected color bundles. You can even find them elsewhere online in 100 gram bags!

Let's talk about the difference between Superduo beads and twin hole beads. Superduo beads are czech glass seed beads that are uniformly manufactured, pressed glass beads. The glass is colored before th
e bead is made, not coated after the bead is pressed. This means that the beads are colorfast and the color won't rub off as you work. Superduo beads also have a unique shape that is a little more va-va-voom than the traditional twin beads. This makes for more exciting and versatile jewelry making designs! Use them with necklace, bracelet and earring patterns. You can even make your own medallions and brooches!
Superduos come in so many colors, its hard to know where to even start! That's why we're going to focus on one magnificent color at a time! Superduo Pastel Bordeaux is by far one of the most popular and awe-inspiring colors. Its deep purple color just begs to be ogled. Here are a few of our favorite inspiration photos of the Pastel Bordeaux Superduo bead: 
1.) This bracelet is so beautiful and the design beautifully incorporates several colors of Superduo beads.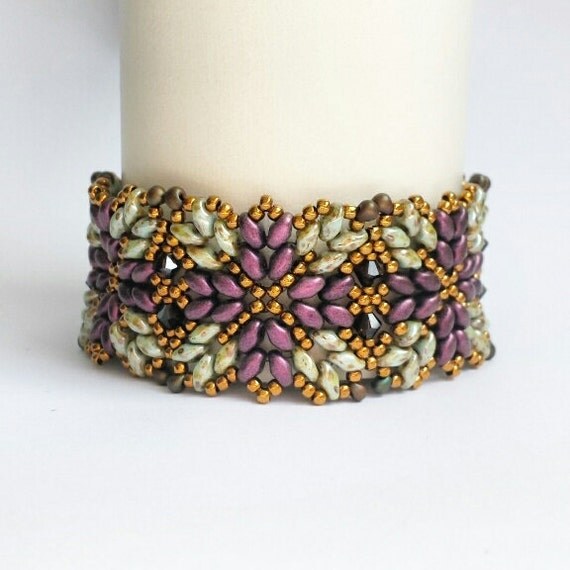 Superduo Beaded Bracelet sold by CinziaDesign on Etsy.
2.) This collar necklace really is fit for a Princess!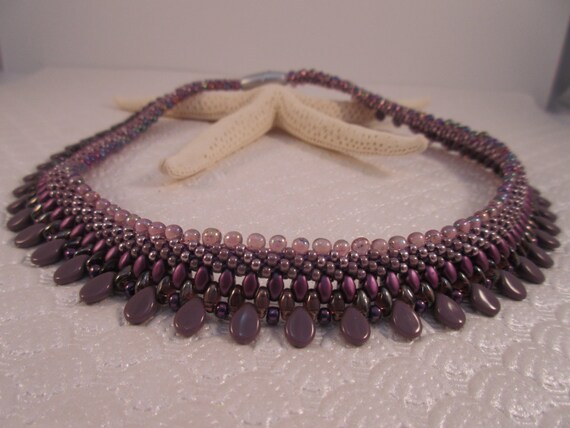 Purple Bordeaux Superduo Collar Necklace by TeaCupsnButterflies on Etsy.
3.) Love, love this Superduo Medallion Necklace!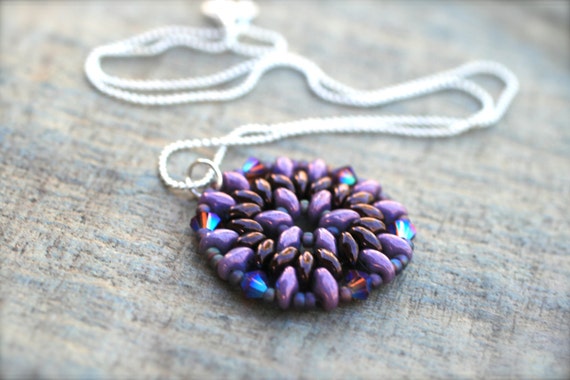 Purple Superduo Beaded Jewelry by MindyG on Etsy.
4.) Keep it simple with this awesome Superduo and Licorice Leather wrap bracelet.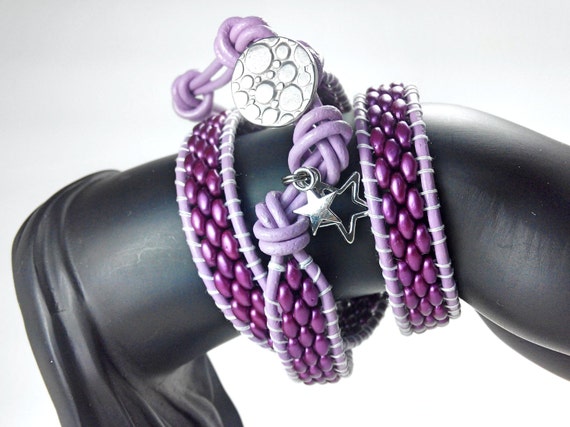 Purple Superduo and Licorice Leather Beaded Wrap Bracelet by MokaBuka on Etsy.
5.) Look at this gorgeous Bordeaux and Bronze combination!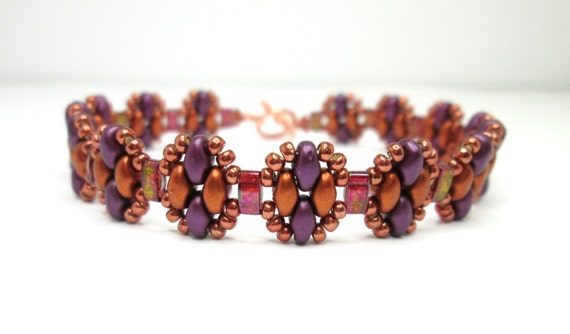 Purple and Bronze Superduo Beaded Bracelet by BuzzybeeBeading on Etsy.