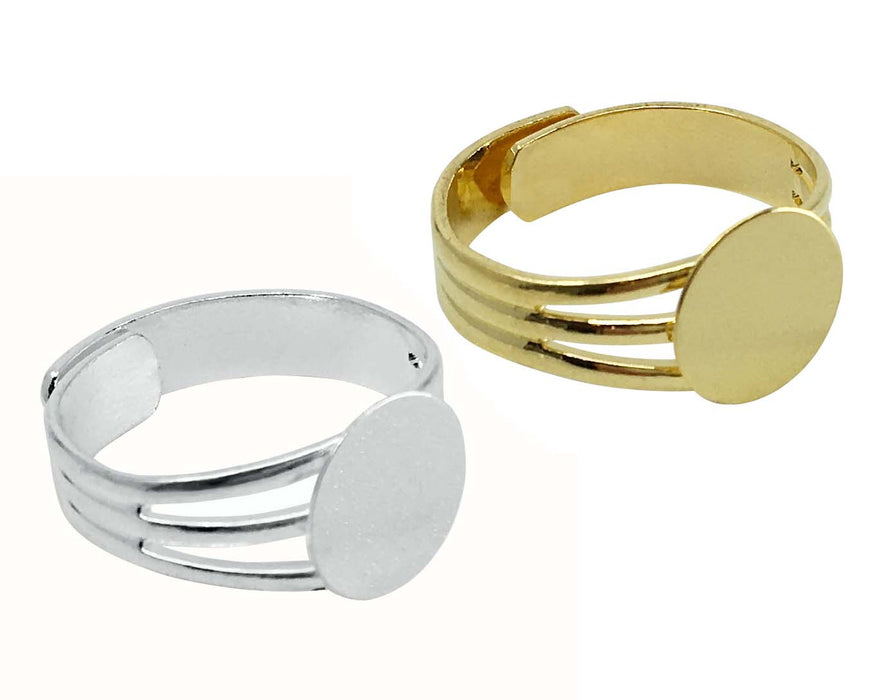 Gold and Silver Plated Ring Blanks with 10mm Flat Adjustable Ring Base - 12 Ring Blanks Total
Liquid error (snippets/product line 100): Could not find asset snippets/opinew_review_stars_product.liquid
SKU
ADJUSTABLE-RING-10MM-PAD-GOLDSILVER
Our Best Selling Adjustable Ring Blanks
These gold and silver plated ring blanks are perfect for your next jewelry making project! ÌÎ_̴ÌàÌÎÌ_ÌÎ__Our best selling ring blanks haveÌÎ_̴ÌàÌÎÌ_ÌÎ__10mm blank, or glue-on pad, for cabochons, glass tiles, gem stones, resin molded ornaments and other ring components.
Gold and Silver Plated Ring Blanks with Adjustable Base

Lead and Nickel Free Blank Rings

DIY Ring Blanks Have Attached 10mm Flat Base for Jewelry Making

Adjustable Ring Base Comfortably Fits Adult Finger Sizes

12 Pieces - 6 Gold Blank Rings and 6 Silver Ring Blanks for Jewelry Making
"LOVE the quality!! I wasn't expecting such a quality product for an adjustable ring blank. You will be satisfied if you purchase this product! I AM!!"
Easy to Embellish Adjustable Ring Blanks
Our lead- and nickel-free ring blanks are safe and comfortable to wear.

These ring blanks have a beautiful shine and will make your finished project look professional! ÌÎ_̴ÌàÌÎÌ_ÌÎ__Each blank is coated in gold and silver plating and are adjustable to fit virtually any adult ring size.

GetÌÎ_̴ÌàÌÎÌ_ÌÎ__creative with these easy to use adjustable ring blanks - great for craft parties and get togethers. ÌÎ_̴ÌàÌÎÌ_ÌÎ__Especially wonderful for DIY gifts.
"Love these. Nice and study and big face (like a dime) I make rings from pins and these won't fall off."
Large Ring Blank Base for Decorating
Our adjustable ring findings have a large 10mm flat base. ÌÎ_̴ÌàÌÎÌ_ÌÎ__Glue-on the largest cabochon, gem, natural stone, cameo or any other embellishment you can find! ÌÎ_̴ÌàÌÎÌ_ÌÎ__Get creative and push theÌÎ_̴ÌàÌÎÌ_ÌÎ__limits with these gorgeousÌÎ_̴ÌàÌÎÌ_ÌÎ__ring blanks.
"I was really suprised by the quality of these. Haven't had an issue yet, but love that they don't contain nickle for customers. Glad I found them and they are very comfortable."
-Braxtin