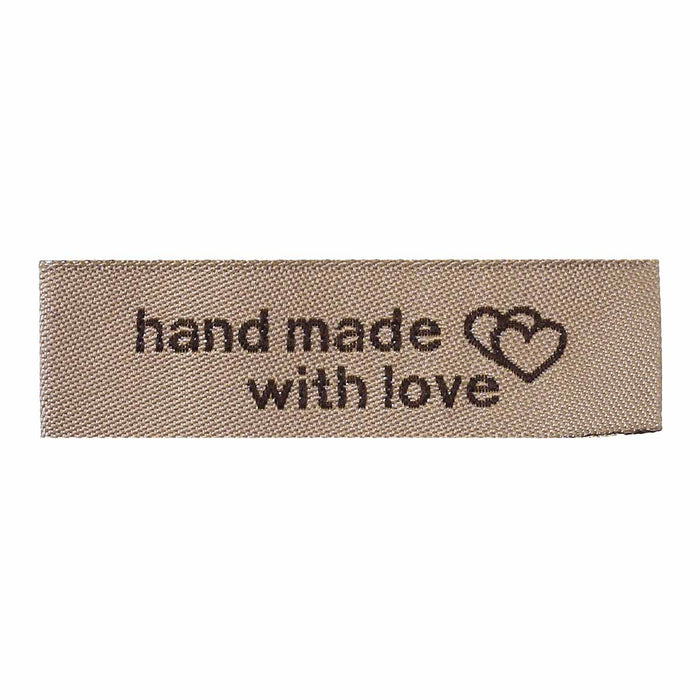 50 Count Handmade Fabric Labels with Interlocking Hearts Light Coffee Color 50mm x 15mm
Liquid error (snippets/product line 100): Could not find asset snippets/opinew_review_stars_product.liquid
These light coffee colored woven cloth tags feature the words Handmade with Love and two precious interlocking woven hearts. Gift tags are perfect for your handmade gifts. Use this gift tag on knitting projects, sewing projects, jewelry, cards, crochet blankets and other crafty gifts. Each tag measures 50 x 15mm. These handmade gift tags are made from a terylene cloth.
50 Count Woven Terylene Fabric Label Sewing Clothing Tags

Light Coffee Colored Handmade with Love Fabric Labels for Clothing and Sewing

Measures 50 x 15mm or 2 x 5/8 Inch

Interlocking Heart Design with Handmade with Love Inscription

Great for Christmas Gifts, Holiday Gifts, Jewelry, Knitting, Sewing Projects, Cards and Other Crafts!
Ì_åÇÌÎÌ__